Sunny Rhodes has a great choice of fabulous resorts to choose from, like bustling Rhodes Town, sleepy Lardos and picturesque Lindos to name a few. We have suggested some of the popular resorts and have highlighted which resorts are close by, to assist you and your guests in selecting where to stay.
The map gives an idea of the location of the resorts on the island and if you need any advice on where to stay, we are happy to give suggestions, as we have a vast knowledge of this wonderful island.
Rhodes Town
Rhodes Town is the cultural and shopping capital of the Dodecanese islands, as well as having some of the most sophisticated nightlife in Greece. The cosmopolitan capital has broad tree-lined avenues, imposing public buildings, Mandraki harbour, the Turkish and Jewish quarters and the magnificent old town, and a stunningly well-preserved Crusader fortress city.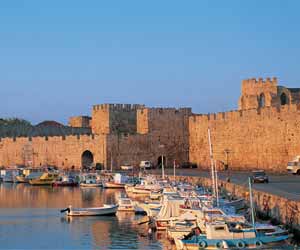 Wandering round the cobbles streets it's easy to picture how it must have looked back in the Middle Ages - despite the modern boutiques, tavernas and souvenir shops! It's hard to not to get swept up in this ancient town's rich history.
As night falls then it's time to head off to one of the many tavernas and stylish restaurant offering the fresh catch of the day, traditional Greek cuisine and fine dining. Then onto the aptly named Bar Street - for a night of drinking and dancing, or maybe a flutter at the grand casino located by the main beach.
For top class hotels with all the trimmings Rhodes Town has plenty to see and do, and if you decide to hire a car, the whole island's yours to explore.
Ixia
Ixia is perfect for active holidaymakers with an endless stretch of shingle beach, complete with sunbeds and umbrellas, a wide selection of watersports and plenty of beach bars. Ixia offers fantastic views of the coastline of Turkey and across the road from the beach, you'll find most of the resort's bars, restaurants and some of the island's top hotel and apartment complexes.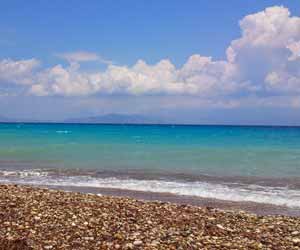 Ixia is in a perfect spot to reach the Capital of Rhodes and its numerous architectural wonders - all a short bus or taxi ride away. Founded in 408 BC, much of the ancient city (including the famed Colossus of Rhodes) was destroyed by a series of massive earthquakes. Since then, it has been occupied by the Romans, Crusaders and Venetians, and Ottomans and Germans - and each and every 'owner' has added their own touch to the lustre of the incredibly unspoilt city.
As you continue down the coast road, Ixia merges into the neighbouring resort of Trianda, or Ialyssos, which are very similar in character. Head up onto the hills above the old village here to discover the beautifully restored monastery of Filerimos, with stunning views across the Aegean to the mountains of the Turkish coast.
So if you want to be close to all this action, yet prefer to stay in a beach resort rather than in the centre of the town itself, take a look at modern Ixia.
Kalithea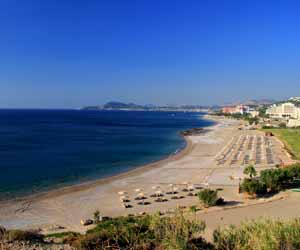 Steadily becoming more popular, holidays in Kalithea.
Kalithea's great location gave it a head start, 10km from Rhodes Town and home to the wonderful Kalithea Spa, a truly romantic location for your wedding.
Popular with families, the resort offers a golden sandy beach and crystal clear sea for swimming, great scuba diving, and the best waterpark.
Evenings are fairly low key - a selection of restaurants and tavernas offering typical Greek dishes and international cuisine as well as a selction of bars in the resort centre.
Faliraki
Faliraki grew up alongside its miles of sandy beach, with safe swimming making it great for families, the sea is clear and warm, and there's every imaginable watersports on offer.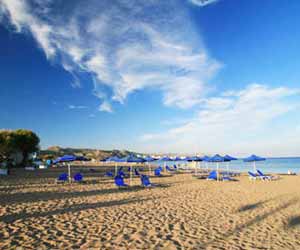 During the day check out the rides, slides and wave pool at the nearby Water Park, kids and adults can all join in the fun!
The atmosphere in Faliraki is amazingly friendly day and night, and has grown up into a good 'all-rounder of a resort. From early evening the centre is the place to be. Whatever music hits your personal pleasure button - dance, RnB, garage, cheese, school disco, or even karaoke - you'll find it pounding out along the two main Bar Streets. Every night is Saturday night in Faliraki! There are plenty of restaurant, snack bars and tavernas, and every taste is catered for.
With Rhodes Town close by, Lindos is easily reached by the new fast road, and an 18-hole golf course in nearby Afandou just three miles away, Faliraki is ideally placed to enjoy all that Rhodes has to offer.
Kolymbia
Welcome to one of Rhodes many sleepy resorts, Kolymbia, squeezed between a mountain and the sea it's spread around a horseshoe sweep of sand and shingle beach.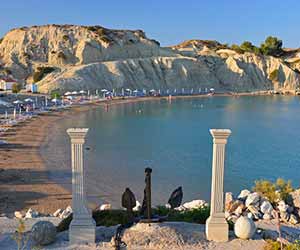 This relaxed, uncrowded resort has all of the essential ingredients for a laid back holiday; a golden beach, watersports, a scattering or bars and tavernas and quality hotels.
Spend your days relaxing by the pool and your evenings over dinner with new found friends around a taverna table under the stars, the pace here is easy going and leisurely. If you hire a car then maybe a visit to the little resort of Stegna should be on your list, where the main attraction is a great sweeping curve of sand and shingle shelving gently into the sea, lined with fish and traditional tavernas Lovely!
So if you want to kick back and unwind by a great beach, with all the delights of Rhodes within reach, then Kolymbia is your resort!
Lindos
The impossibly pretty village of Lindos is an artist's dream, a cluster of dazzling white sugar-cube houses clinging to the hillside below the fortified acropolis, looking down onto a superb crescent of golden sand in a beautiful bay. The narrow car-free village streets wind among houses with tiny courtyards paved in mosaics made of black and white pebbles, and despite the numerous bars, fashionable boutiques, and jewellery shops the atmosphere and character of Lindos is quite unique, and many people wouldn't think of holidaying anywhere else.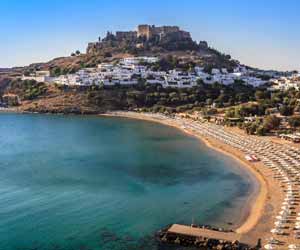 When the sun goes down Lindos really livens up, the villages maze of narrow cobbled streets are buzzing with its vibrant, modern bars, smart restaurants, and fashionable nightclubs all swing into action. A visit to the acropolis is a must, either by donkey or foot as the views from the top are simply stunning, St Pauls Bay, Pallas Beach, the popular main beach and the whole of the enchanting village, so don't forget your camera! Popular St Pauls Chapel stands proud over the bay and hosts hundreds of weddings each year, a stunning and romantic location .
There aren't too many resorts that lay claim to the beauty and popularity as Lindos does, and if your idea of a perfect holiday is a beautiful setting, close to great beaches and lively night, then Lindos should be top of your list!
Pefkos
Pefkos means 'pine trees' in Greek and this attractive village enjoys the shade and second of several of them, basking in the sunshine on its own pretty little bay where a fabulous beach of soft, clean yellow sand slides into clear warm seas.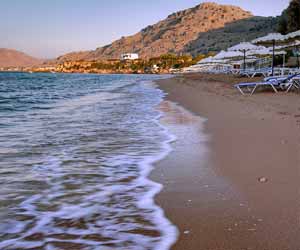 Just five kilometres south of Lindos, Pefkos has escaped the attentions of the day-trippers who flock to see its famous neighbour, but is now coming into its own as a lively little resort with smart new holiday accommodation, sophisticated restaurants, music bars and even a disco or two. There are umbrellas, and pedaloes for hire on the beach, and watersports are sometimes available.
If you hire a car, you can explore the quieter southern half of the island and its lesser know beaches, then head for Lindos at sundown for the evening action. In Pefkos, the nightlife centres around the tavernas and friendly little bars, think lazy days and leisurely evenings. It's a refreshingly unspoilt resort popular with couples and families alike.
Lardos
A traditional, friendly Greek inland village partnered with a glorious stretch of beach - it's a two-for-one holiday when you book Lardos.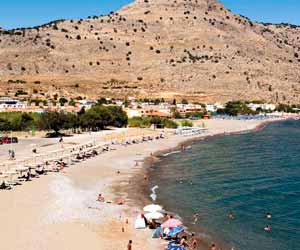 Full of sun-drenched days on the sand and shingle beach, and snorkelling in the crystal clear waters of the sea. There are a handful of tavernas backing the beach for a little light refreshment during the day, and you'll find more on offer in the village of Lardos 2km away.
Surrounded by green groves life in Lardos still revolves around the square at the heart of the village. With the pretty, Italian fountain supplying natural spring water, along with the bars and tavernas fill the square with a lively buzz. You will find many of the friendly locals enjoy sitting in the cafeneions in the square, drinking Greek coffee or the local ouzo, while talking and playing Tavly (backgammon). The many local restaurants offer a variety of mouth watering selections of both Greek and international cuisines.
By day, organized excursions are available to Lindos, to see the Acropolis high above the village, trips around the island, shopping trips to Rhodes Town, and to the ruins at ancient Kamarios and the Monasteries. Boat trips are also available to neighboring island of Symi and Marmaris in Turkey.