A specially selected range of fun cruises to suit all ages and budgets to make your holiday more even more memorable. Enjoy fun in the sunshine on one of our fun mini-cruises ideal for all ages and priced to meet all budgets.
Enjoy the fabulous views of the eastern Rhodian coastline and nearby Turkey relaxing on-board as you sail to selected locations for swimming and snorkelling in crystal-clear waters teeming with sea life.
Our specially curated selection of water-borne experiences using trusted partners offers you the chance to enjoy sea breezes in the warmth of our fabulous Mediterranean climate.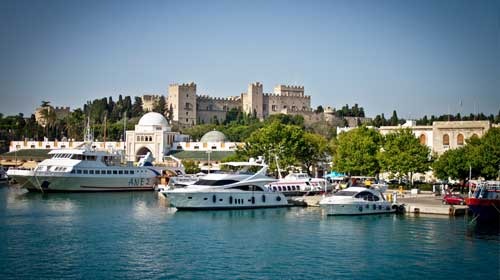 Adrenalin Glass-Bottom Speedboat
3 hours high-speed fun swim & snorkel cruise to Anthony Quinn, Ladiko and Traganou caves. Have fun feeding the fish through the glass-bottom hatch and relax on Anthony Quinn beach.

Includes wines, ouzo, fruits and soft drinks. Sails from Faliraki Harbour.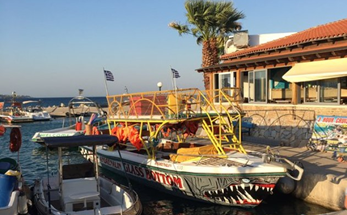 Matsigkos Fast Boat Cruises
Choose from a 5½ hour day cruise to Lindos with time ashore to visit Lindos (3 hours) and swim stops at Red Sand and Tsambika beaches or a 6½ hour afternoon & evening cruise to Lindos (4 hours) with stops at Stegna and Tsambika. Sails from Kolymbia.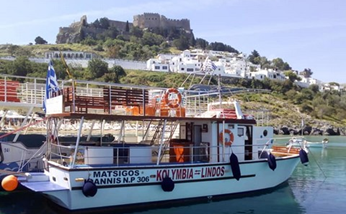 Poseidon Submarine
One fabulous hour exploring the underwater world in and around Mandraki harbour Rhodes. Enjoy the vibrant multi-coloured sea life from the air-conditioned underwater observatory lounge or relax on deck. Sails from Mandraki Harbour.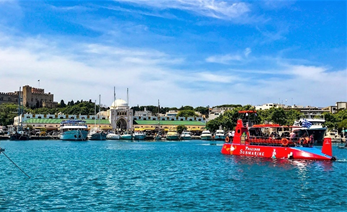 Romantika Classic Sailing Yacht Sunset Cruise
Relax on cushioned seating or sumptuous bean bags on this all-inclusive cruise on a 22m traditional sailing yacht to swim and snorkel at Kallithea then enjoy a buffet of Greek cuisine with unlimited beers, wines and soft drinks. Sails from Mandraki Harbour.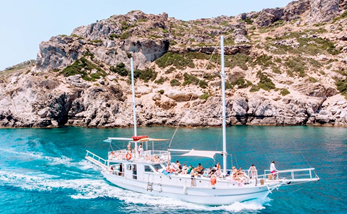 Sotos Voyages
Relax on a traditional 17-metre wooden Rhodian boat cruising to Anthony Quinn, Ladiko and Traganou caves.

Enjoy a swim and snorkel to see the fantastic array of sea life at each stop. Snacks, fresh fruit and soft drinks included. Onboard cash bar and toilet. Sails from Faliraki beach.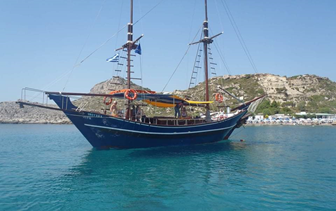 Vikings Classic Sailing Yacht
Classic sailing all-day aboard the beautiful Vikings Classic Sailing Yacht from Mandraki Harbour. Built-in Symi in 1969, she has been family owned since 1974.
6½ hours sailing in style under the power of Mediterranean breezes along the beautiful east coast on this classic sailing yacht to swim and snorkel at Kallithea, Anthony Quinn and Ladiko. You will be served a delicious buffet lunch on board along with a beer, wine or soft drinks and water. Sails from Mandraki Harbour. [Photo - TBA]

INCLUDED: Snorkels and masks. Food and drinks as detailed above.
NOT INCLUDED: Transfers to/from embarkation point (please enquire – we can provide service if required).
Personal spending for onboard cash bars, ashore (food, drink and entry fees at historic sites/museums you choose to visit).
TRAVEL ADVICE: T-shirts, hats and high-factor sunscreen for daytime deck travel. Sensible deck shoes/trainers. Camera! Towels and swimwear. Cardigan or jacket for the evening cruises.