Lindos Weddings Ceremony Venues for amazing Exquisite Unforgettable Unique Wedding Services in Rhodes!
Lindos Wedding Ceremony venues, Beach Weddings, Garden Weddings Roof Top weddings.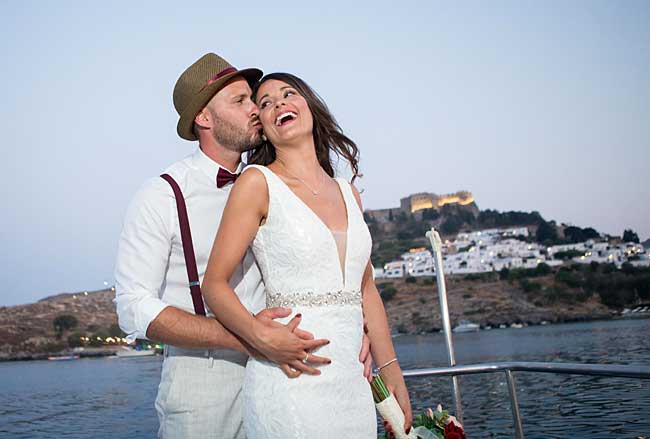 There are many romantic venues to host your Lindos Wedding.
Our company and professional wedding team are ready to help and suggest to you some really nice ideas and options for the special day of your wedding.
Also, we would like to share with you our secrets and treasures of the locals and surrounding areas of Lindos that we have found over the last 17 years.
The traditional Greek whitewashed houses lining the village and coastline of Lindos create a breathtaking view of your ceremony location.
A great way to approach your ceremony location is to be escorted by a traditional violinist or accordion player.
Ceremony venues don't get better than this, they boast amazing views of the coastline which will be in the background of all your photos.
To make your wedding in Lindos even more unique why not enjoy a champagne cruise and arrive at your Lindos wedding reception venue in style. We offer beach wedding venues in Lindos and its surrounding areas, garden and rooftop venues within the village of Lindos and other rooftop location close by.
Additional Information:
• Ceremonies are held on every day of the week.
• Bi-gradable confetti may only be used and can only be thrown at the gates on the couple's departure from the chapel.
• It is required that you go to the town hall a couple of days after your wedding day to sign the registrar.
• A member of our team will escort you.
• Additional fees are required at venues and you will be informed of these on your initial inquiry.
Surrounded by natural beauty it is easy to see why St Paul's Bay is such a popular wedding venue.
The ceremony will be held on the wooden decked jetty with the Aegean sea and Acropolis of Lindos behind you. In the far corner of the bay stands the beautiful whitewashed chapel of St Paul and a short walk away from the popular traditional village of Lindos.
Additional Information
• Private ceremony location
• Ceremonies held Monday to Friday
• Additional fees apply :
0-30 guests 200.00Euro 31- 60 guests 300.00Euro
• Fees include chairs, private decked area, table for ceremony, security and upkeep of the area.
• Additional Registrar fees apply for out of area location €130
• Additional fees for carpets arches and flowers
A purpose-built venue set back off the main Lindos beach.
A lovely decked wooden pagoda for your ceremony with the beautiful views of Lindos bay and the Acropolis of Lindos.
Additional Information
• Private ceremony location one hour
• Ceremonies held Monday to Sunday
• Additional fees apply of €250
• Fees include gazebo and champagne for the couple
• Additional Registrar fees apply for out of area location €130
• Deposit Required €100
• Additional fees for chairs, carpets and gazebo flowers
Please Note: Coaches cannot get to this venue and would have to park and you would incur a walk down a steep hill to the venue. Taxis will also get closer but still leaving you to walk the last part of a steep hill or access from the beach.
A beach wedding venue on the outskirts of Lindos.
Your ceremony will take place facing the sea and the beautiful bay of Vlicha.
A wooden gazebo dressed in white drapes with white chairs for all the guests makes the perfect setting for your Lindos wedding. You may add floral stands, arches or a red and white carpet at an additional fee.
It may be used as Ceremony only, Ceremony and Reception or Reception only.
Additional Information
• Sea view and mountain view dining
• Indoor dining available (May and Oct)
• Pre-dinner drinks are held in the lower level Alfresco 'Azzurro' lounge bar
• A la carte and BBQ menus available
• White linen tablecloths and napkins included
• White chair covers included
• A dancing area in the lower 'Azzurro' lounge bar until midnight
Ceremony Information
Ceremony Days: Monday – Sunday
Ceremony Times: 15.00 – 19.00
Additional Registrar fees apply for out of area location €130
Gazebo Reservations Ceremony & Reception
Cost: Up to 40 Persons the price is 300€
For more than 40 Persons the price is 5€ per person.
The above price includes a bottle of water for all guests and a bottle of Prosecco for the Groom and Bride.
*Important Notice the welcome drinks can only be consumed after the ceremony

Gazebo Reservations Ceremony Only
Cost: Up to 40 Persons the price is 400€
For more than 40 Persons the price is 7.5€ per person.
The reservation cost for the Gazebo will be 100€ and the rest paid, maximum, a day before the ceremony.
The above price includes a bottle of water also, for all guests and a
bottle of Prosecco for the Groom and Bride.
PAYMENT& DEPOSIT
A deposit of 200€ is required in advance to guarantee the venue date.
The deposit is non-refundable in the event of cancellation.
Rest Payment (200€ will be deducted from the total venue cost) should
be made at your meeting by Euros (€)
.
Melenos Lindos
A state of the art hotel Melenos in Lindos is the perfect wedding location. Surrounded by natural beauty and panoramic views of Lindos Bay and its famous coastline and the Acropolis of Lindos as the backdrop for your wedding photos this venue is for those who believe in indulging themselves in pure luxury.
• Wedding Ceremony
The Garden area or the Blue Balcony can also be offered for guests who wish to organize their wedding ceremony at the extra area rental cost of 300 euro. This amount includes private use of the space for a couple of hours and all equipment the Hotel already has and will be requested from the guests to use (white dressed chairs, tables, linen and waiter service). This price does not include beverages.
• By booking your wedding ceremony in the Melenos allows you to use the space with no time limitation, you can personalize the actual ceremony text by adding your wows/speeches or poems on to it. You can also have your own music list playing ( while guests are waiting, during the bride's entrance, while signing and after the ceremony ). In case you would like to book a ceremony only the rental cost is 300 euro and you need to book a cocktail hour at the cost of 25euro per person and the hours for the ceremony only is 16:00-18:00.

• Music:
A DJ or a live band is not allowed unless there is an entire villa booking ( the hole property ) as we need to make sure that the rest of the in house guests will not be disturbed.
For all wedding receptions that will be exclusively reserving the Top Restaurant or Garden Restaurant for their event, we offer you the possibility of live music based on acoustic musical instruments (guitar, bouzouki, etc.) without loudspeakers and electronic equipment. This can play from 19.00 - 21.00 hours.
We can also play music from I-pod or I-phone the music list of their choice but we do request that the music would fit with the hotel's ambiance.
Moreover, music from the loudspeakers can be on until 23.30 at the latest and we request that the wedding party would also leave the premises by midnight.
We need to make sure that our in-house guests will not be disturbed in any case.
Melenos Wedding & Reception Venue
• Dining
Roof Top Restaurant: We offer the guests the possibility of exclusive use of the Roof Top Restaurant (without the condition of booking the entire property ) when the number of guests is over 50 people. The cost of the exclusive use is 1000 euros and guests are able to use the facilities until midnight.
Garden Restaurant: In case the wedding reception holds less than 50 guests, we can offer the opportunity to hold the wedding reception dinner at the Garden Restaurant with sea view. The rental cost is 500 euro and you have the exclusive use of the area.
In the case where the Garden Restaurant area will not be privately reserved other hotel guests will have access to its food & beverage facilities and the hotel will not be able to play the couples' choice of music.
Full Restaurant: This indoors restaurant offers total privacy and a mystic atmosphere for intimate dining. This space is ideal on bad weather conditions.
• In the case of a large number of children, an entertainer or a baby sitter is requested.
• In case of a small wedding dinner request up to 10 people please note that we will be able to keep the request on hold and confirm this a couple of months prior to the wedding.
• Kindly note that we cannot accommodate wedding requests during August & September
• Menus:
Kindly note that guests have the option to choose from White/ Red/ Rose house wine but this is served on the table once the Melenos Welcome /Ouzo is cleared out of the table and that we do not offer beer or other spirits or soft drinks instead of wine.
A soft drink is included on the children's menu.
We kindly request the hotel to be informed of the guest's food choice at least a couple of months prior to arrival.
• Wedding cake:
If your package includes a wedding cake then the serving fee is 50 euro.
• Welcome drinks:
These can be arranged at the Melenos Garden Lounge area or the Blue Balcony. We can arrange for a Champagne cocktail hour with a variety of canapés (champagne menu) or a choice of drinks that the clients prefer such as Pimm's, Buck Fizz, Prosecco, beers and a lot more are available too.
Platers of assortments (flying buffet ) can also be arranged on request.
• Cocktail booking:
We offer the Garden Area & Blue balcony for Cocktails only if the couple has booked their dinner at the Melenos Lindos.
The cost of this booking for the Garden Area or the Blue Balcony is 350 euro.
• Wine & Bar lists:
The prices for 2018 will be set at the end of April 2018.

Important info:
Guests that have booked the Top Restaurant for their Wedding ceremony & dinner no extra fee apply for their cocktail in the Garden Restaurant.
Guests that have booked the Garden area for their Wedding ceremony & dinner no extra fee apply for their cocktail in the Blue Balcony.
Guests that have not booked the venue exclusively and they wish to have arrival drinks this would be served for :
Top restaurant bookings by the entrance on a buffet, Garden Restaurant's bookings on the bar that is located in the same area.
• Capacity-Sit down Dinner:
Top Restaurant: 90 pax
Garden Restaurant: 40 - 45 pax
Indoor Restaurant "Foul" 35 pax
• Capacity ( seated guests ) – Wedding Ceremony
Top Restaurant : 75 pax
Garden area: 45 pax
Blue Balcony: 25 pax
• Hours of use:
Dining
Roof Top Restaurant opens for dinner at 19.30 pm.
Garden Restaurant opens for dinner at 19.30 pm.
• Welcome drinks:
Welcome drinks at the Blue Balcony open from 14.00 pm until 17.00
Garden area opens at 14.00 pm until 18.00
• Cocktails:
Garden Lounge (Cocktail hour) opens at 18.00 pm until 23.00 pm
During low season months or on special occasions when early wedding ceremonies, the above hour limitations can be flexible upon request.
For Villa bookings (whole property ) no hour restrictions apply.
Important note:
Private Villa booking guests ( all hotel rooms )can use all Hotel areas all day long without the above mentioned hour limitations on the day of the event.
Rental cost/ceremony costs apply as normal.
Rest of the days the hotel is free to accept other bookings too regarding the restaurant.

• Accommodation:
In order to confirm availability we need to have exact dates, therefore, we would like the guests to contact us directly.
• Guests not only can reserve any number of rooms they like in the Melenos Lindos but can also reserve the entire Villa for a minimum of 3 nights!! That way all their guests would feel a lot more comfortable having the place on their own, feel like home and enjoy their privacy at all times. Moreover, this will take advantage of the spaces
and any facilities in our hotel, since all staff will be there exclusively and only for you. Our hotel is a family hotel therefore children are welcome.
• Please note that the check-in hour is at 14.00 p.m. We cannot guarantee an early check-in as this is subject to availability. In case you would like to secure an earlier check-in then we suggest you book the room for the night before the wedding too so that you have a stress free bridal preparation day. The maximum number of guests allowed in the room during preparation is 5 pax.
• Deposit:
Required deposit amount:
Dinner over 50 people 800 euro
Dinner up to 50 people 400 euro
Wedding ceremony 250 euro
Cocktail 250 euro
• The above-mentioned amounts are non-refundable in any cancellation.
The deposit will be reduced from the final total cost of your wedding reception. We guarantee that no other wedding reception will be hosted at the same time in the restaurant.
• Kindly note that there are no tips included on the total cost of food or drinks, therefore, there is a fee of 100 euro that applies at the final total of the event. This is paid in cash on the spot.