{gallery slider=boxplus.transition animation=3000}editor-content/Rhodes-Tour-Island-Discovery{/gallery}
Rhodes island private tour with our professional experienced drivers gives you the best experience and day tour available on Rhodes. We begin our tour of discovery in the islands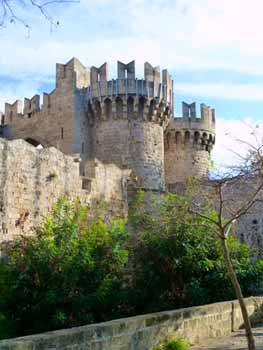 medieval city at the Grand Masters Palace, which is every bit as imposing and majestic as its name suggests. This is also the home to the archaeological museum and near to the site of the Colossus of Rhodes, one of the seven wonders of the ancient world.
Then we will venture through the narrow cobbled streets to the highest point of the old city where you can enjoy an amazing historical sight in full panoramic view. We continue our journey from the north down the west coast of Rhodes, through ixia and on up to Filerimos. Here you can walk around the site of the peaceful monastery and walk the along the Stations of the Cross to the best viewing point on the west coast.
We journey on inland to the Butterfly valley where you can admire the rare admiral moth covering the trunks of the sweet gum trees in this natural beauty spot. Still traversing the island back towards the east coast, we make a stop at 'Seven Springs'. As the name suggests, there are seven springs, some underground and one, which the Italians built a tunnel around.
You can follow the spring over the top of the tunnel, but a more exciting way is to walk through it. It takes about 10 minutes to walk the length of it.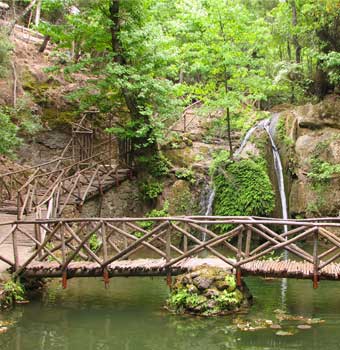 Its pitch black and the tunnel is just high and wide enough for you to wade through the cool spring water that covers your feet.
As you emerge at the other end you are welcomed by sunlight filtering through the trees and a small lake, which the springs flow into. It is an area of outstanding natural beauty.
A short journey takes us on to Lindos where you will have time to explore the village shops and pretty side streets or venture up to the fortified acropolis. Our next stop is back up the east coast to the pretty bay of Haraki where we can stop and enjoy a relaxing lunch by the sea.
Our journey back will continue along the east coast travelling north through Faliraki and past the famous Kalithea Spa.
This is a full day out (8 hours) and is highly recommended for cruise ship passengers.
Additional Tour Information:
Additional fee for lunch and entrance fees to sites
Flat shoes,Sun tan cream and hats are a must.
Always carry a small bottle of water.
Additional hours can be added.
Tour Duration Hours: 8 Hours. 'Additional hours can be added'
Available: Daily
Extend Your Tour: If you wish to take longer at one particular site or stop for lunch or a swim at one of the island beaches you may extend your tour at the time of booking or on the day with the driver.
Additional time is charged per hour.
Tour also available for larger groups with private bus contact us for details and prices.